This feature is being rolled out in phases, if you would like early 
access to the feature please contact support@fireflies.ai
Meetings processed by Fireflies will be available in your Notebook. Channels in Fireflies help you organize your meetings that are related to a particular topic, team, or project. Users can create Channels that can be either private or public. Out of the box Fireflies comes with three default channels that are all public.
Default channels
The Notebook is categorized into three channels:
1. All meetings: This section is a compilation of all the meetings that are present in your experience. It includes your meetings and meetings hosted or shared by your teammates.
2. My meetings: This only includes meetings that you were the host of and those that you have the privilege to edit and delete.
3. Shared with me: This section only includes meetings where you were a participant.
Private channels
Private channels are only available to users on a paid plan
Creating a channel
All users in the team workspace can create private channels
Private channels can be created by clicking on the "Create" or the "+" button on the left-hand side panel

To finish creating a private channel, a user has to enter a name that is within 100 characters. Users also have to enable the toggle to make the channel private

Private channels cannot be made public after being created.
Who has access
By default, all admins of the team workspace are added as members to all private channels in the workspace
Non-admins will need to be added to the channel by the creator of the channel or the admin.
Access to meetings in the private channel is dependent on the settings of the individual meeting.
How to add/remove members to a private channel
Members can be added to a private channel by clicking the avatars on the top
From here you can choose to add multiple users to the channel
You can also remove users from the channel from this panel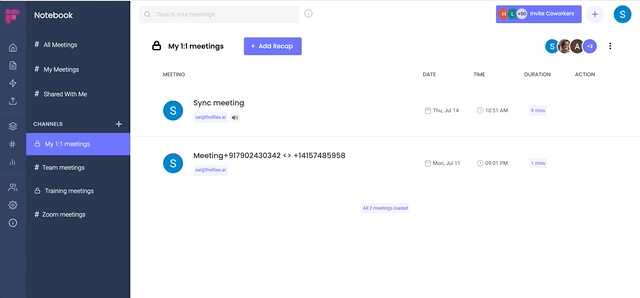 How to add meetings
Meetings can be added to private channels from the channels page or from the default channels
Only meetings that you own can be added to a private channel.
By default, the meeting list is filtered to meetings that are owned by a user. They can then search for meetings based on the title
Once a meeting has been added to a private channel it will not be visible in any of the default channels.

These meetings will only be visible to members that are part of the private channel
It will also only be visible to the owner of the meeting or the admin upon running a search.
Meetings in private channels will have a lock icon in the meeting page to indicate that it is a part of a private channel

Depending on the view settings of the meeting, it can still be accessed directly using the link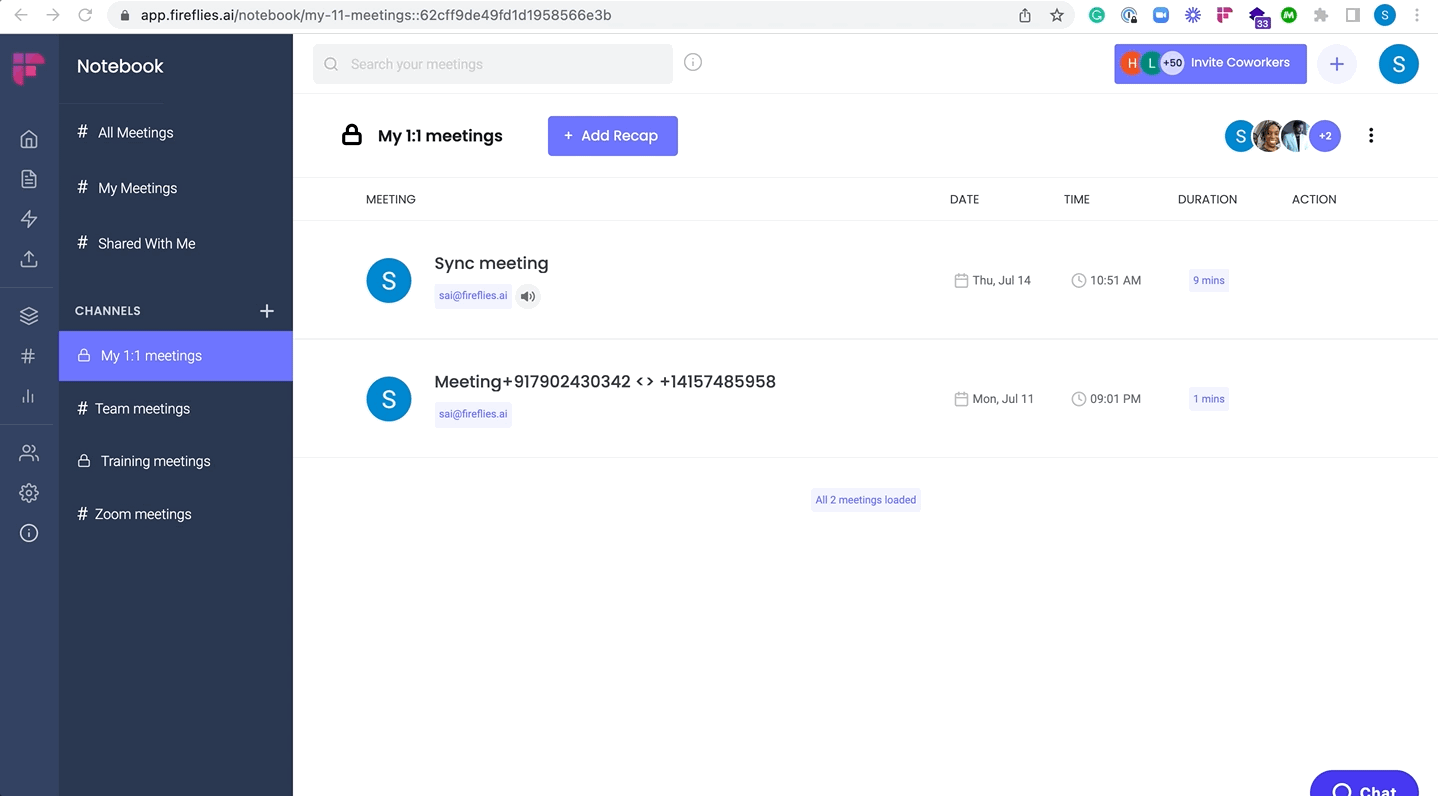 How to move meetings
Meetings can be moved to and from private channels to other custom-created channels
A user will only be able to move meetings that they own to/from private channels

When a meeting is moved to a private channel it will no longer be visible in the default channels
When a meeting is moved out of the private channel to a public channel, that meeting will now be visible in the default channels.

Users can choose to move multiple meetings in bulk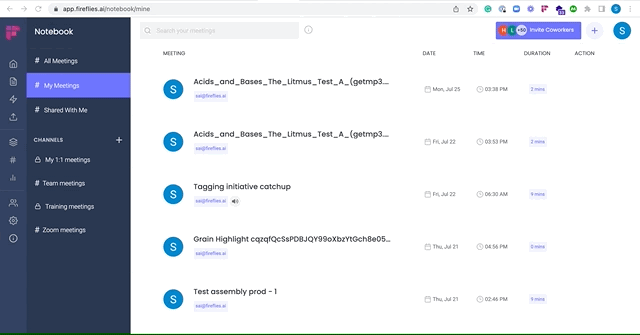 Deleting a Channel
Channels can be deleted by clicking on the three dots icon present on the top right.
Only the admin or the creator of the channel can delete a private channel
Once a channel is deleted, all meetings present in the channel will be moved back to the default channels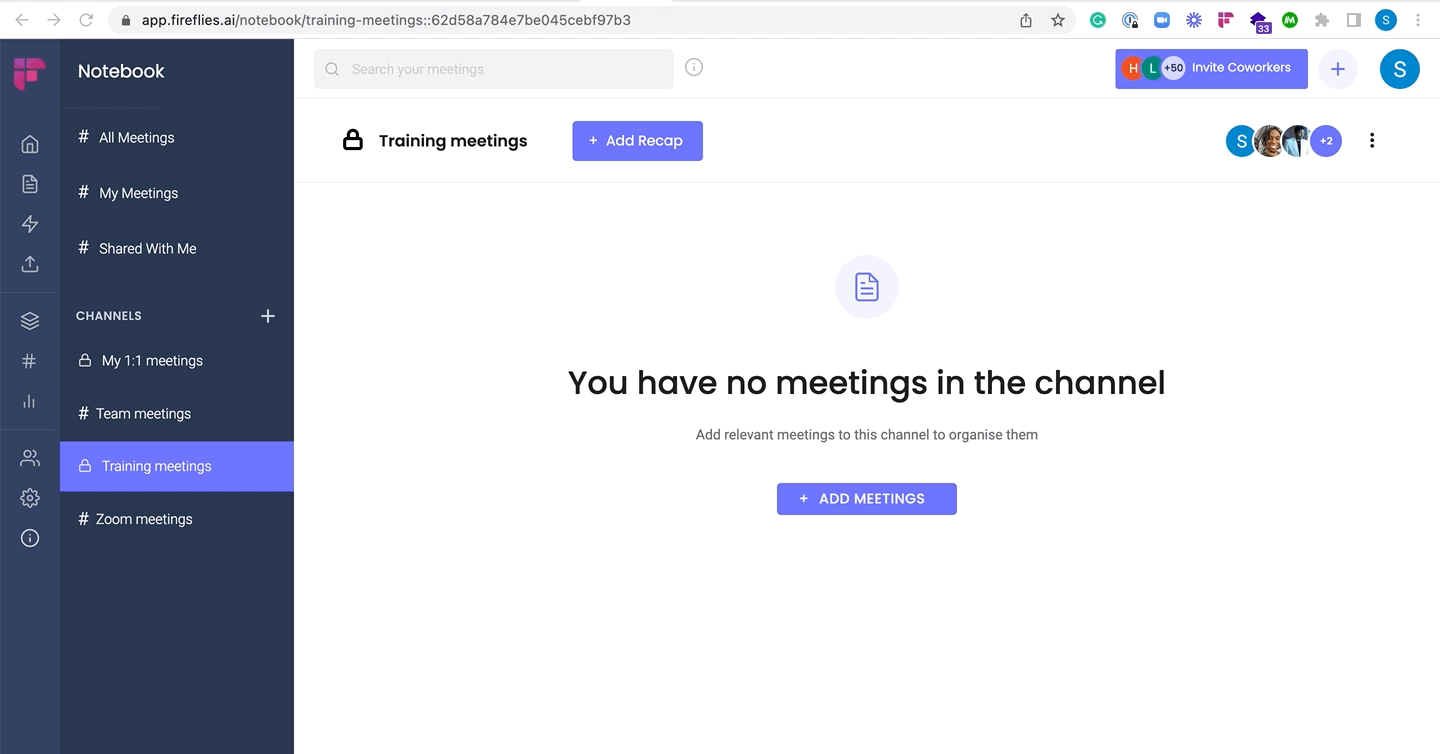 Public channels
Public channels are available to users on all plans. Users on the free plan can only
create upto 3 chanenls
Creating a channel
Public channels can be created by any member in the team workspace
To create a Channel click on the "+" icon on the left-hand side panel

To finish creating the channel, you will need to give the channel a name that is under 100 characters

Who has access
All users part of the team workspace by default have access to all created public channels
Access to individual meetings present in a public channel is dependent on the individual meeting setting
How to add meetings
Meetings can be added to a public channel from the channels page or from your default channels
Individual users can add meetings that are either owned by them or where they were a participant.
Admins can choose to add all meetings that are in the workspace to a public channel
Users can search for meetings to add either by the title or based on the email address of the host.
Meetings added to public channels will continue to be visible and present in the default channels
How to move meetings
Meetings can be moved to a public channel either from the default channels or from other private/ public channels
Users can choose to move meetings that are owned by them or where they were a participant
Admins can move all meetings that are part of the workspace to/from public channels

A meeting moved from a public channel to a private channel will no longer be visible in any of the default channels and will only be visible to members of the private channel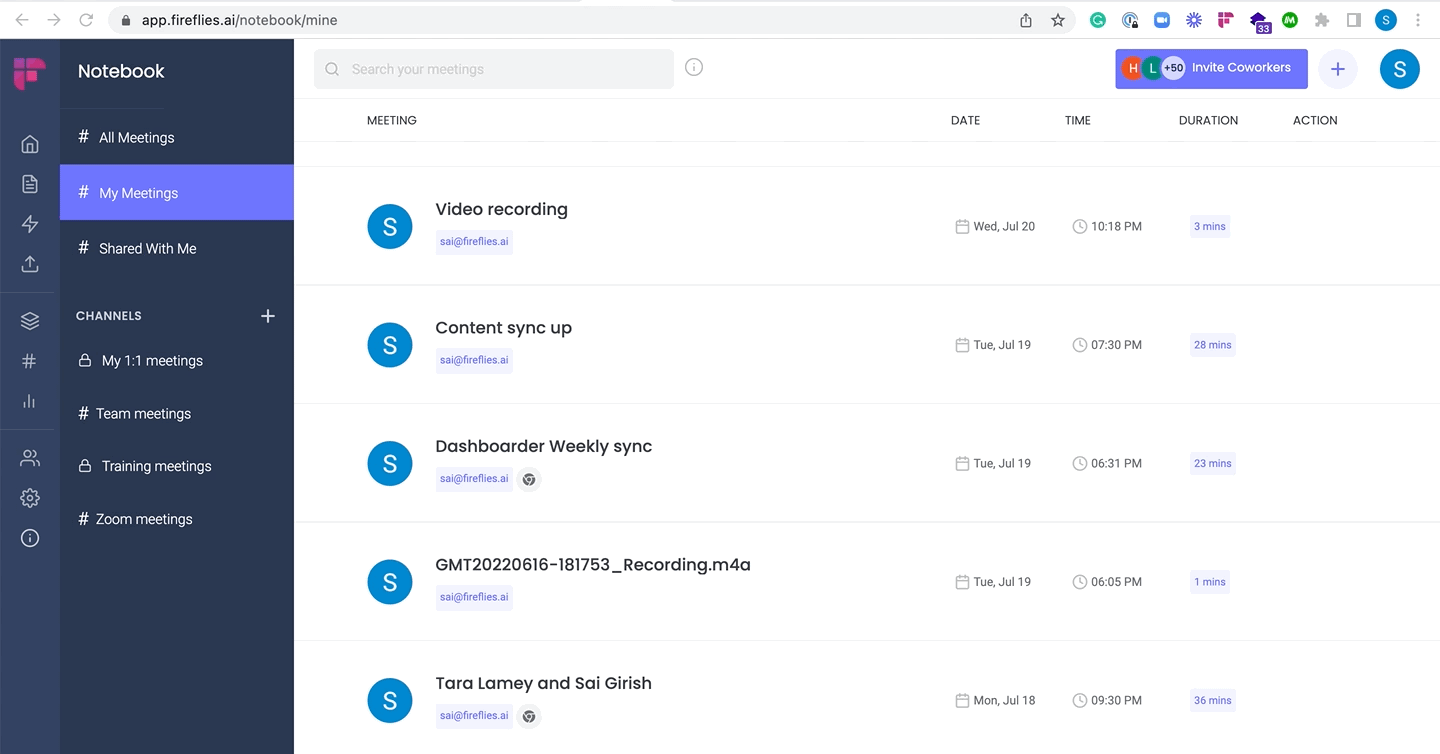 Deleting Channels
Channels can be deleted by clicking on the three dots icon present on the top right.
Only the admin or the creator of the channel can delete a private channel
Once a channel is deleted, all meetings present in the channel will be moved back to the default channels