Fireflies helps you record, transcribe & search all of your voice conversations from different web conferencing platforms in one place. Now with conversation intelligence you can find deeper insights buried within your meetings. You would get a suite of features like conversation analytics, speaker analytics and team insights within your Fireflies dashboard.
All the conversation intelligence features are available only for Paid plan users. Here is the list of everything you would get:
Speaker Analytics (For individual meetings):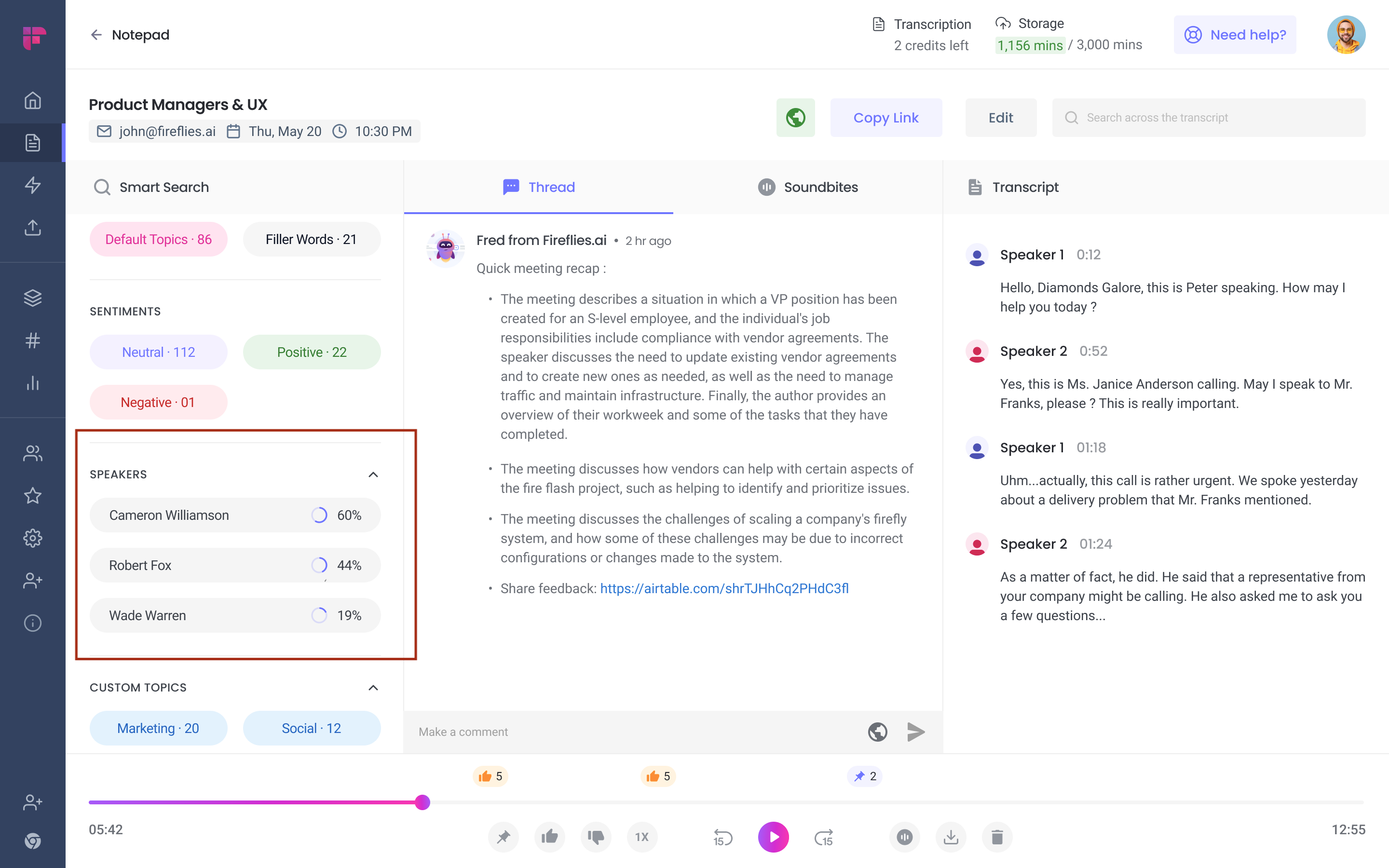 Available for both Pro & Business plan users. You would find it on every meeting transcript in left pane under Smart Search > Speakers. It gives you a distribution of how much each speaker spoke within that meeting. You can also see the speaker analytics distribution on Free plan but in paid plans you can additionally click on any speaker to filter out the transcript based on when they spoke during the meeting.
Conversation Analytics (Aggregated):
You can reach it from the left nav on your dashboard by clicking on 'Analytics' or you can directly open the page https://app.fireflies.ai/analytics

It is only available on business plan.

We have 2 tabs on the dashboard:
1. Analytics: Find the important metrics aggregated for all the meetings for yourself and your team for a given date range.
2. Topics insights: Find important topics & keywords from your meetings in one place.


Under analytics tab
First select the date range you would like to see the insights for from the right top corner. You can select from: Today, Last 7 days, Last 30 days or a Custom date range.
Once a date range is selected all the metrics would be loaded based on the date selected.

Depends on who you are, you would see different versions of the analytics dashboard.

If you are an individual users who is not in any team or you are not the admin of your team then you would see all the aggregated metrics just for your own meetings. You would find these summary cards with different metrics for your own meetings.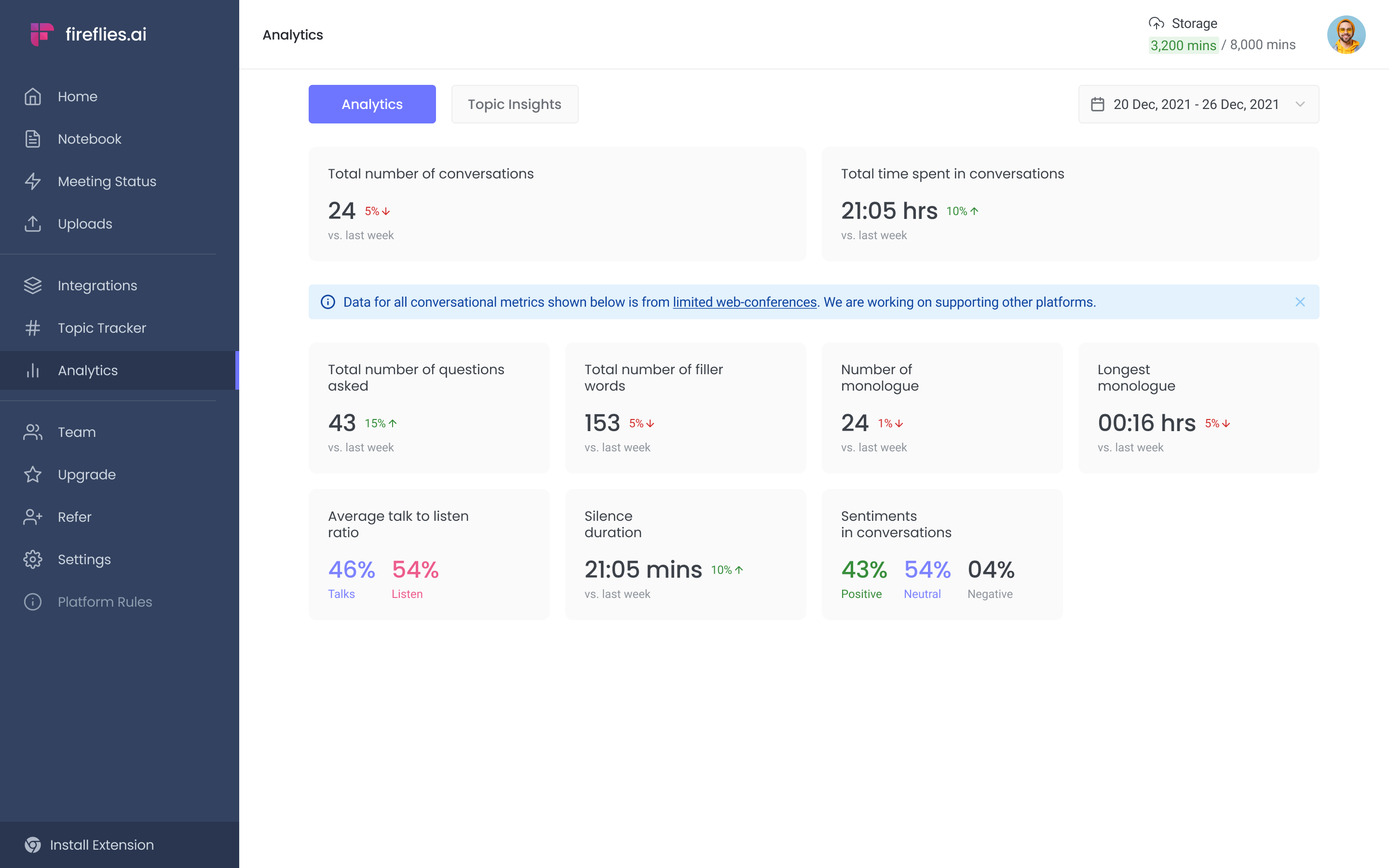 If you are a team admin of a team workspace then you would see a different version of the analytics dashboard. You would see summary cards with data from all the meetings of all your teammates combined. Team admin can also check different metrics for each individual teammate from their team and measure how they are participating & performing.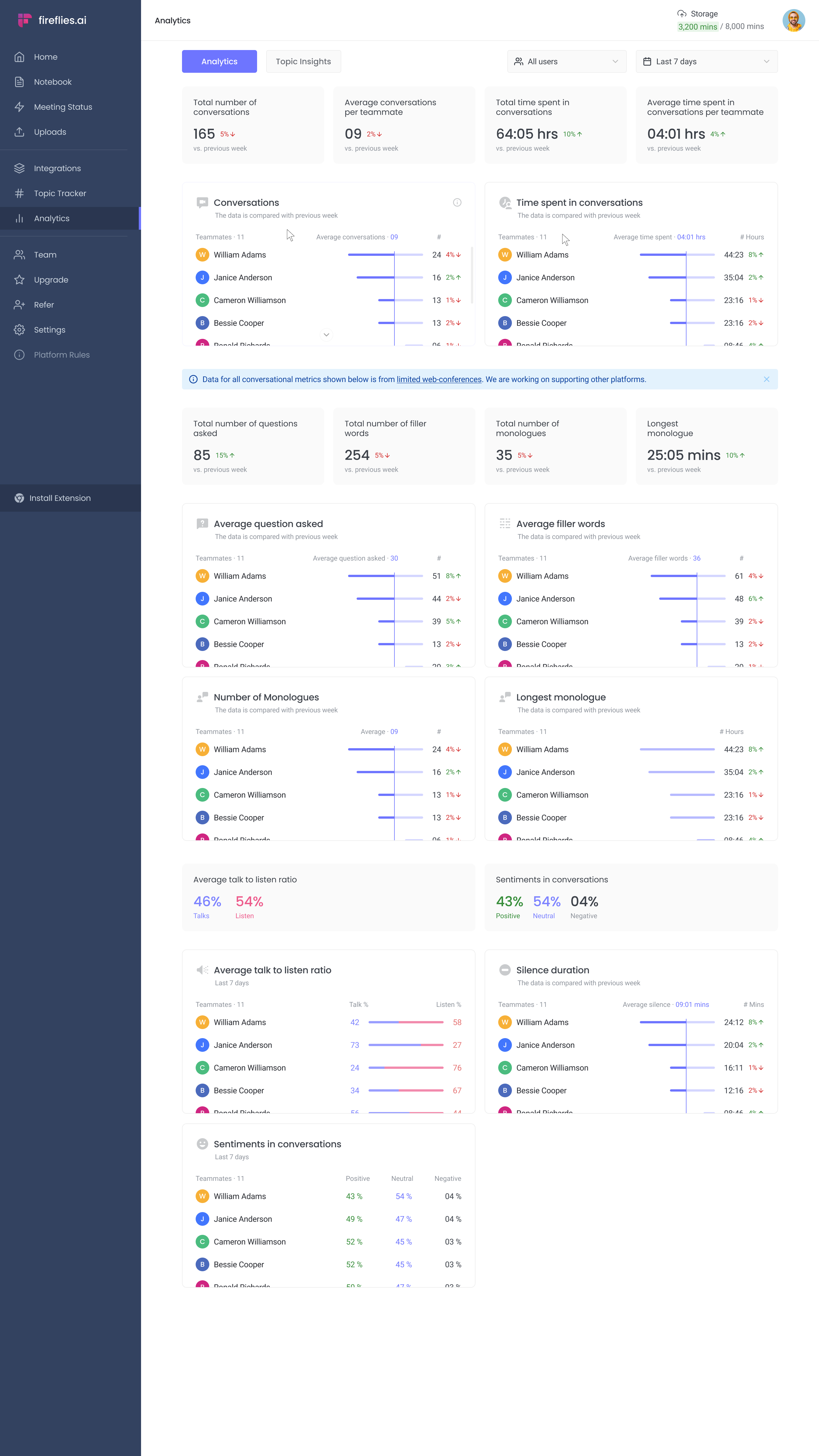 Definitions of different metrics:
If you are the team admin, you would see all the metrics combined for all your teammates meetings. If you are an individual or non-admin, the metrics would show data from your own meetings.
Total number of conversations:
Number of meetings you or your team had within the date range.


Total time spent in conversations:
Time spent in meetings by you or your teammates.


Total number of questions asked:
Count of all the questions asked from the meetings.


Total number of filler words:
Count of filler words used within your meetings. Filler words can be 'Ums' & 'Ahs' or double words used.


Total number of monologues:
Any speaker talking for 90 secs or more uninterrupted in a meeting would be counted as a monologue. This is the count of all monologues in your meetings.


Longest monologues:
Time duration of the longest monologue within your meetings.


Talk to listen ratio:
Ratio of the time you talked Vs listened during your meetings.


Silence duration:
Within your meetings, duration when no-one spoke and there was dead silence.


Sentiments:
Show positive, negative & neutral sentiments within your meetings.
Under Topics insights tab
Track your topics & keywords used within your meetings in one place. Based on the topics you have created on the Topics page, you can find key trending topics for all meetings aggregated here.

Select the date range from top right corner and find the topics, keywords within them, number of meetings they were used and the frequency of usage.
Team admin can also filter their topics based on meetings of a specific teammate by selecting from the drop-down on top.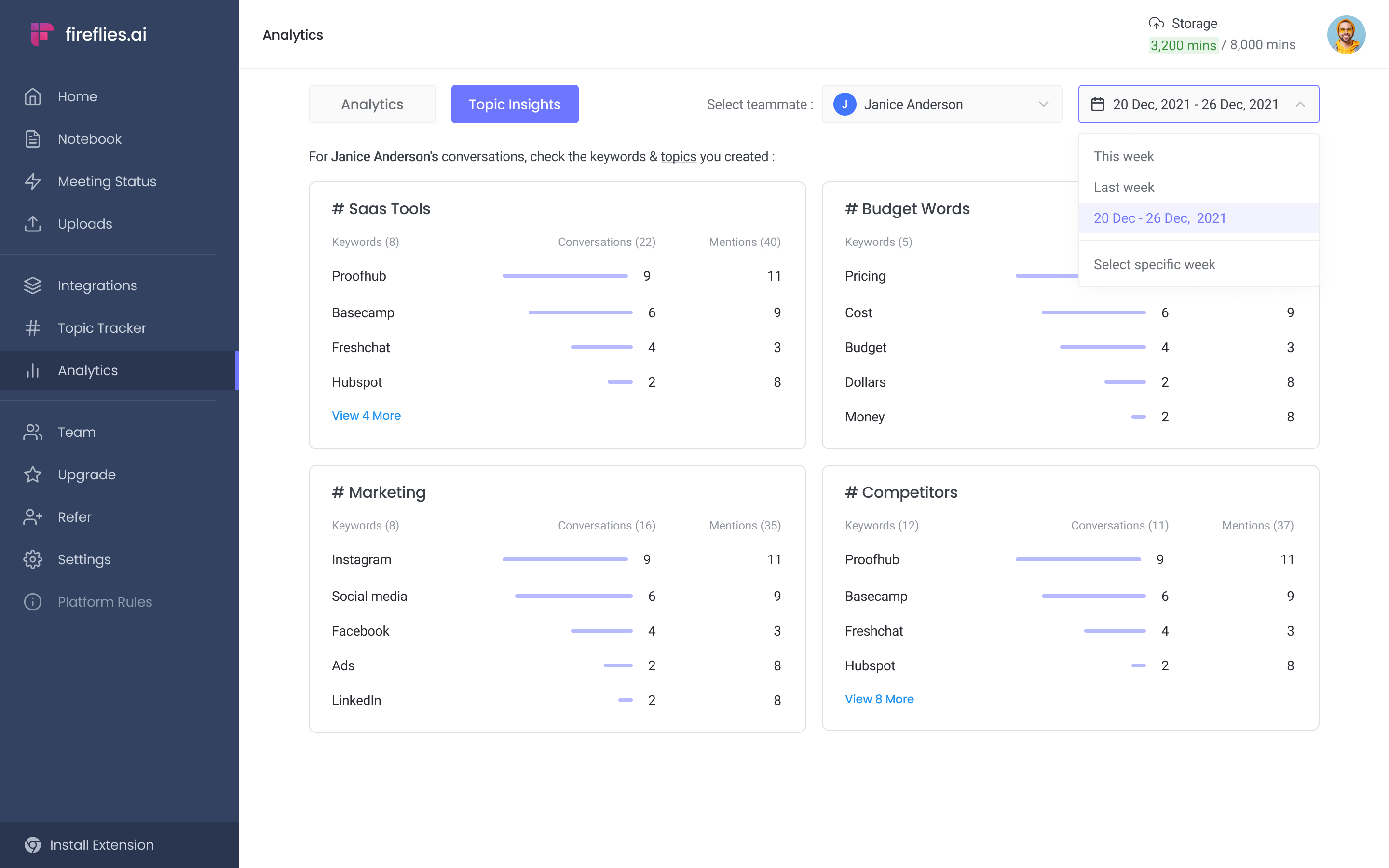 Note: We only support & populate data for all conversational metrics automatically for limited web-conferences like Google meet, Goto meet, Blue jeans, Webex & Skype. We are working on supporting other platforms as well.

You can manually add speaker labels within your meetings and get conversational metrics populated for your meetings for unsupported platforms.

Total number of conversations & Total time spent in conversations are not dependent on speaker labels and would be populated automatically for all platforms.