In this article, let us see the steps to integrate Pipedrive with Fireflies.
What is Pipedrive
Pipedrive is a sales CRM and pipeline management software. By integrating it in Fireflies, your notes, including recording and transcription, would automatically be sent to Pipedrive after a meeting.
Related article: Check out all these popular apps you can integrate with Fireflies
How to integrate Pipedrive with Fireflies
First, log in to your account and then click Integrations on the main menu found on the left. On the Integrations page, hit the Pipedrive

icon.

Click on the Connect button.

You'll be redirected to Pipedrive where you can sign in to your account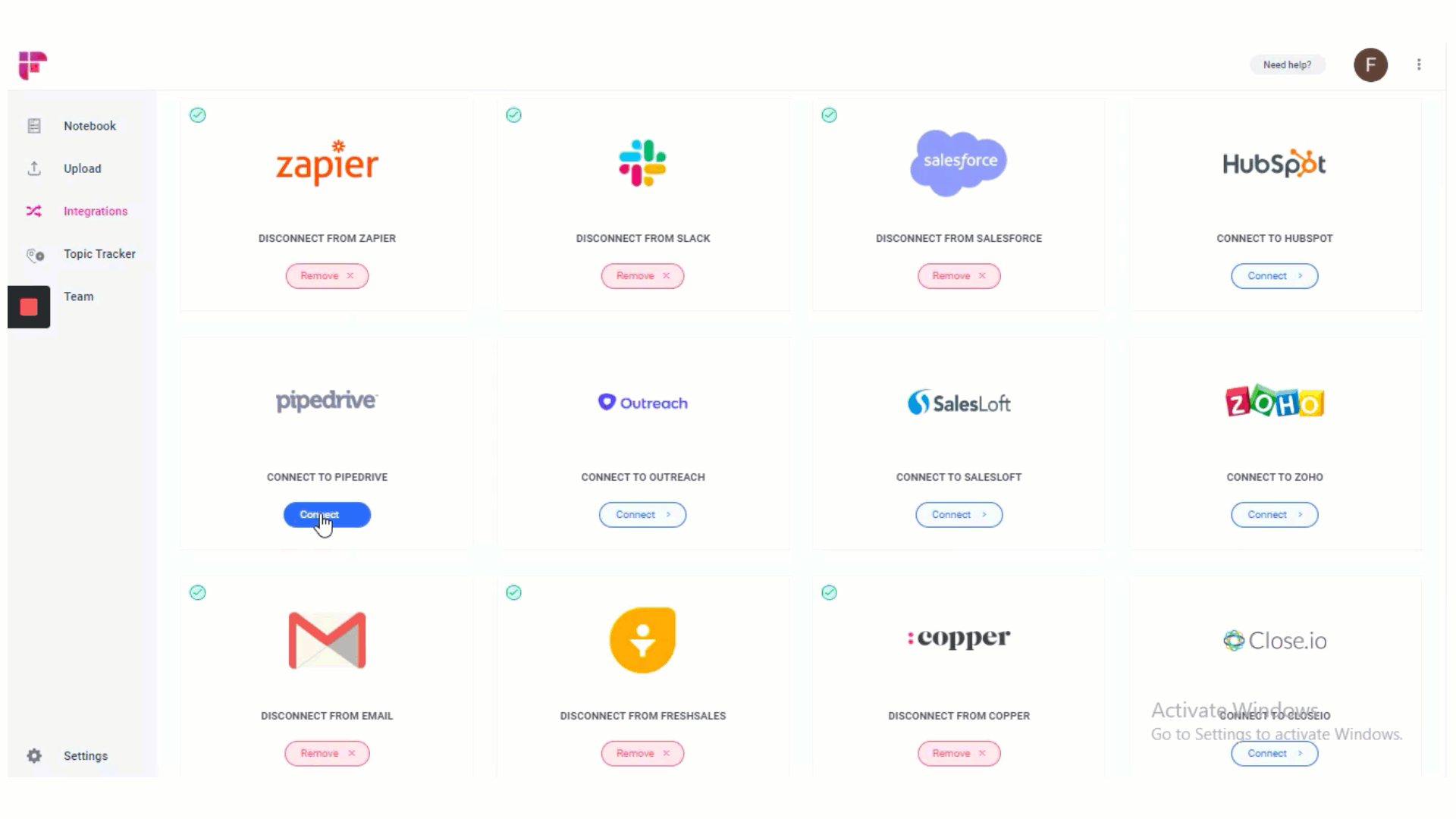 You have successfully enabled Pipedrive on your Fireflies App. Back on Fireflies, you'll notice the Active badge.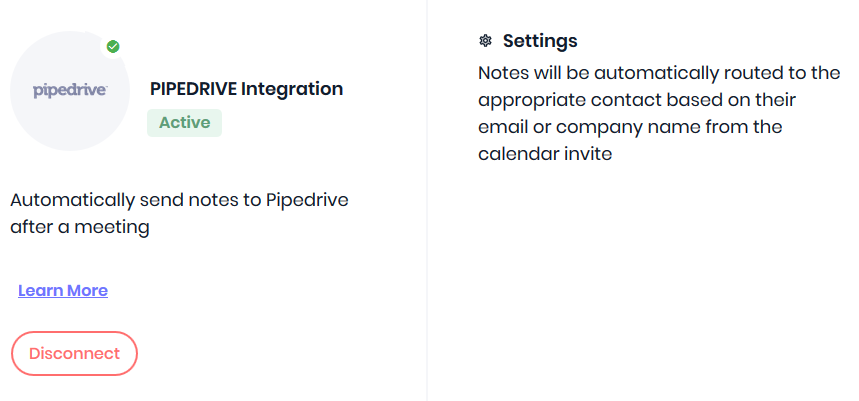 Notes will be automatically routed to the appropriate contact based on their email or company name from the calendar invite
Related article: How to send automated meeting notes to your CRM under contacts or deals
Note:
This default behavior of logging a meeting to a contact can be updated by enabling the toggle to create a meeting participant as a lead.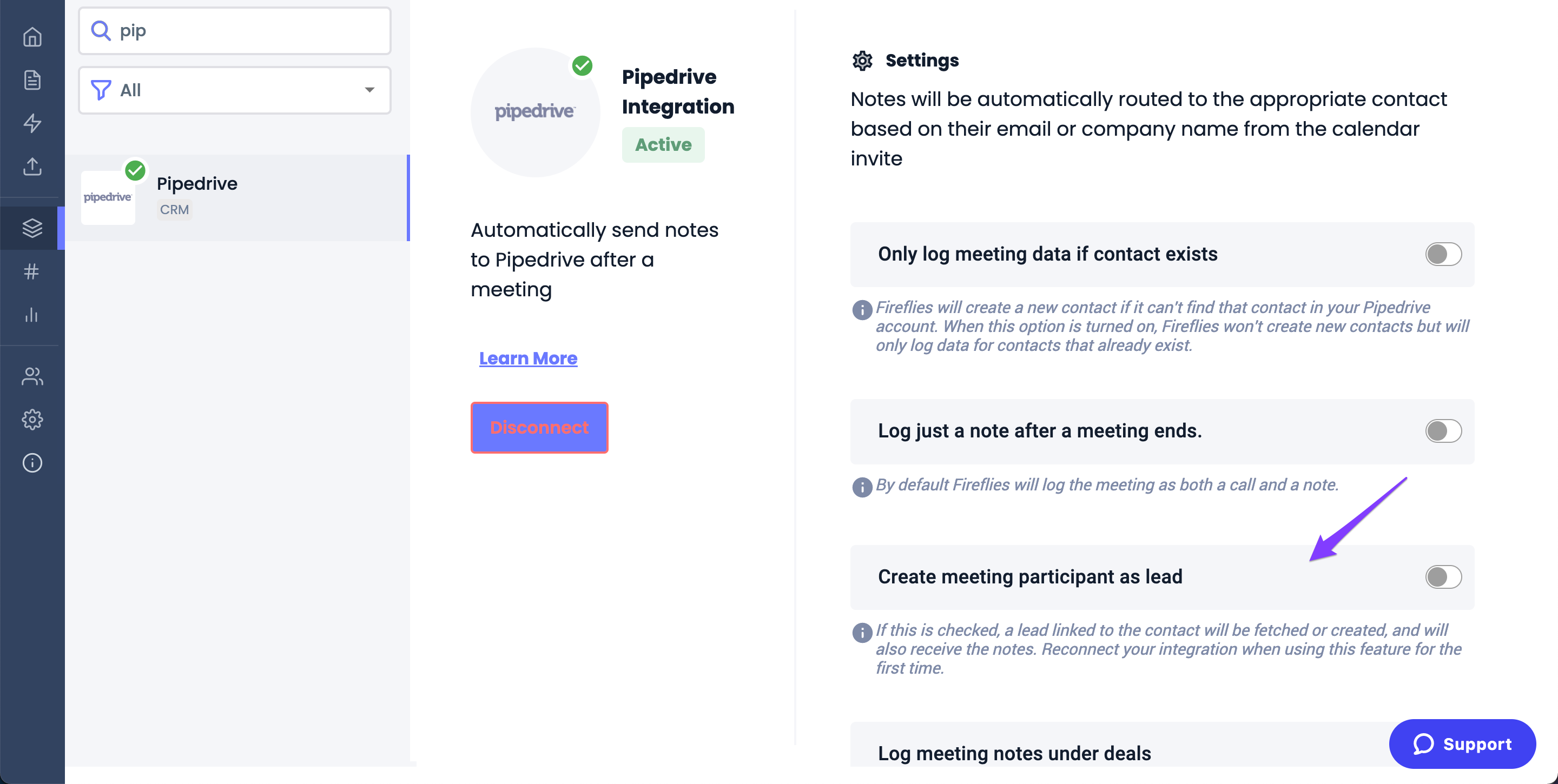 Once enabled, when a new meeting participant is identified it will create the participant as a lead.
Pushing meeting notes to deals
Today by default, post a meeting Fireflies notes are pushed under the Contact. Take the following steps to start logging fireflies meeting summaries to deals that are connected to Contacts
To use this feature, existing users of the integration will have to disconnect and reconnect the integration
Enable this toggle to start logging meeting notes under Deals in Pipedrive

Once this toggle has been enabled, you should select the Pipeline in Pipedrive. Meetings will get logged under Deals that are part of the selected pipeline.
In addition to selecting the pipeline, the user can select the stages in the pipeline. Meeting notes will be created for deals that are part of the stages in the selected pipeline.

In the event no pipeline or stage is selected, Fireflies will create meeting notes for all Deals that are linked to the Contacts that were part of the conversation.
If there are multiple deals connected to a contact, we will push the meeting note to the most recently created deal.
Related article: How to set up Fireflies to track custom topics during your calls
Hope this article helped you to integrate Pipedrive with Fireflies. Fireflies also integrates with all these popular apps.
In case, you have any questions or doubts about how to integrate your favorite apps with Fireflies, drop us an email at support@fireflies.ai