A teammate is someone that shares the same workspace with you. You can invite teammates and check the teammates who are part of your workspace by going to Team settings
You can share your meeting recordings and transcripts with your entire team. You can also comment and flag important meeting moments that you or your teammates can refer back to.
How to invite a teammate?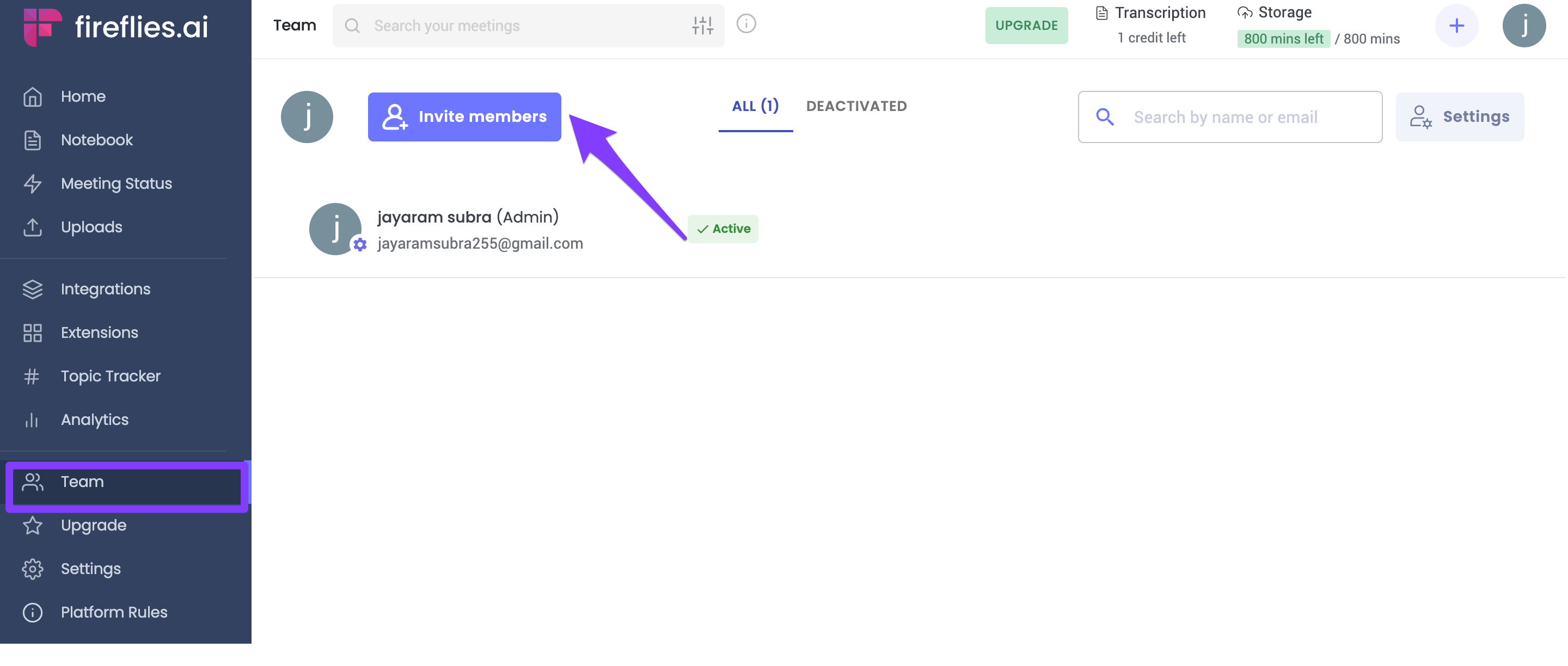 You will have a suggested list of teammates that you can invite or you can manually enter their email addresses and invite them. For more details, refer to the below support guide:
Related article: How to invite a teammate into your workspace?
Do I have to pay for additional seats?
Do all teammates need to be on the same tier?
Yes. The admin and all teammates are automatically set to the same tier. If the admin is on Pro then all teammates will be on Pro.

If the admin is on the Business tier, then all teammates will be on the Business tier

I do not want to pay additional fees
You can Deactivate your team member by doing the following:

Go to

Team Settings

Look for the email address of the teammate you want to cancel

Click the three (3) dots across your teams' email address

Click the Deactivate button.

Can my teammate invite Fred to a meeting?
Yes. If they are part of the workspace, they will enjoy the same functionality the Team Admin enjoys.
Can my teammates choose their own join settings if I am the admin?
If you're an admin, you have the ability to set the settings for my teammate. You can allow teammates to choose their own join settings by selecting the Allow teammates to choose option.
I do not want my teammate to view all my meetings
You can edit your personal

Privacy Settings

and select any of the following:

Anyone with the link

Only Participants & Teammates

Only Participant

Only Teammates

Only You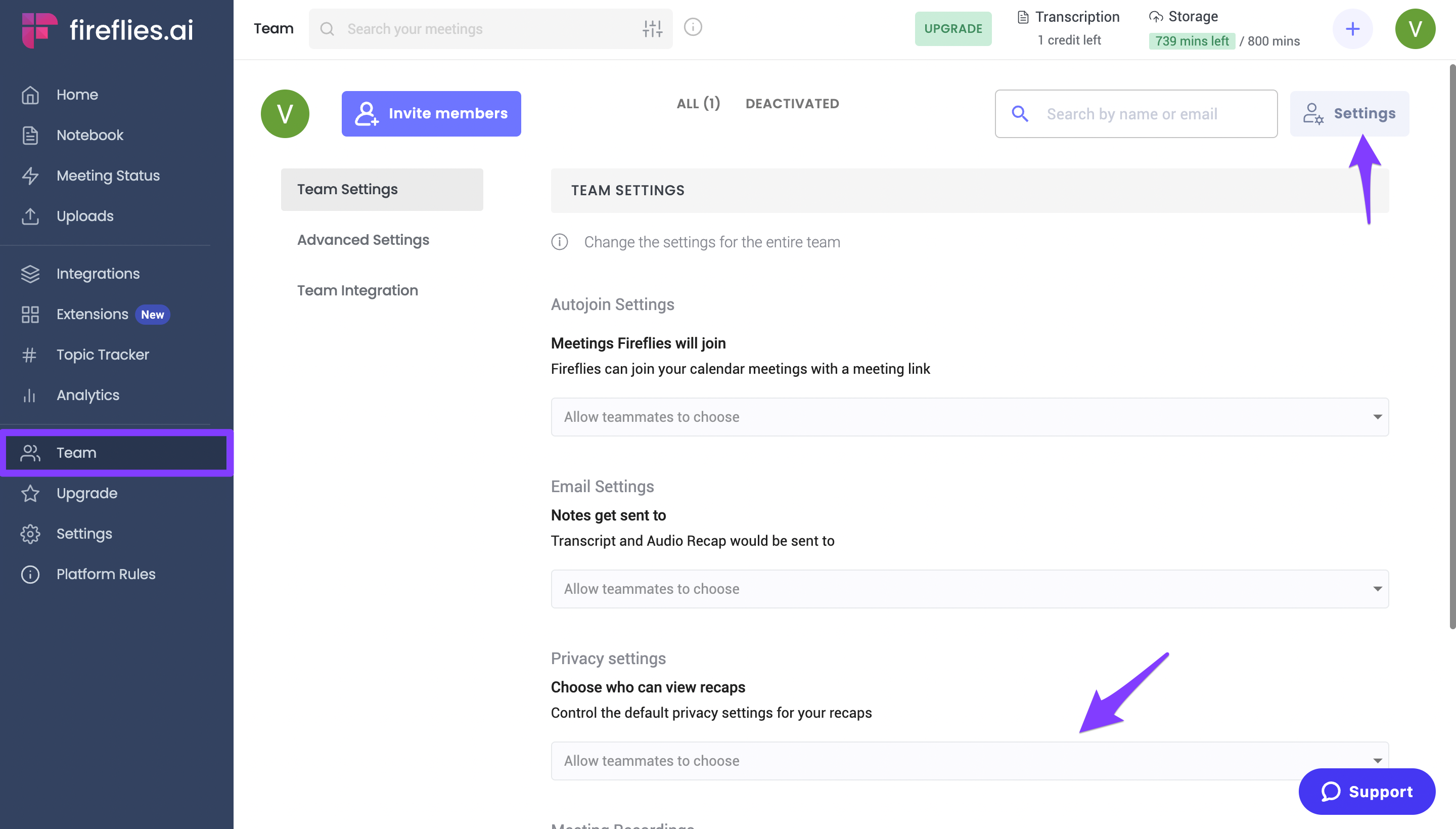 For example, if you don't want your teammate to view certain meetings, you can pick the Only you option.
Can you choose the join settings for your teammates?
In fireflies.ai, you can go to team and then you go into team settings. This is different from your personal settings. You can apply settings that get updated for all your teammates be it join settings or email settings or even video recording.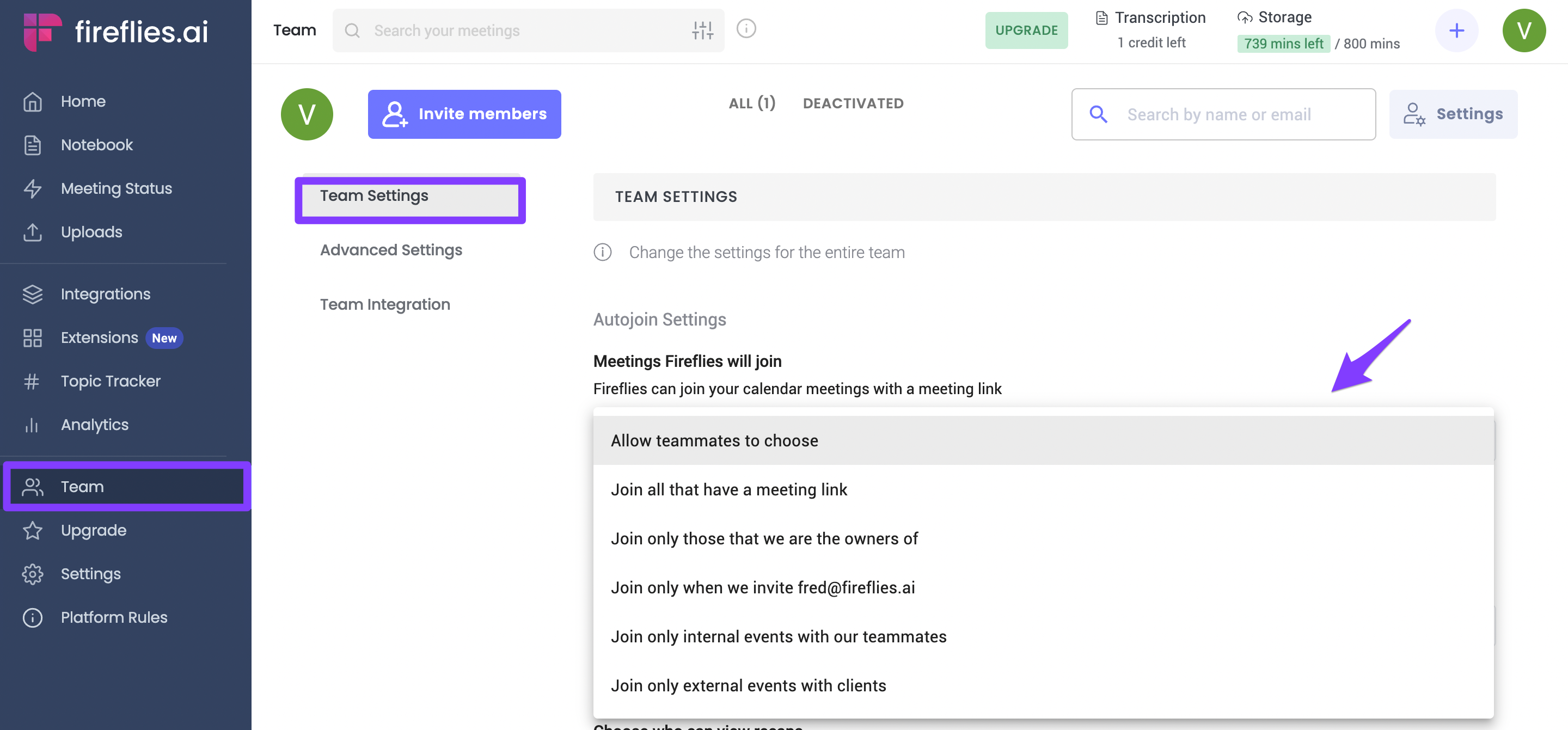 How Fireflies joins your meetings when multiple users invite Fred to the meeting?
If the host is inviting the bot to the meeting, Fireflies will join on behalf of the host and it will use the host's meeting settings to share the recap & transcription.
If Fireflies was not invited by the host but by a couple of participants, it tries to join on behalf of who invited it first to the meeting.

And if someone wants to get access, they would need to ask the person Fireflies joined on behalf of, to enable access and share the meeting afterward in case their share settings are set to only me.
Hope this article helped you to use Fireflies with your teammates. You can check the how to control team settings to manage the Fireflies settings for your entire team.
If you still have any questions about using Fireflies, feel free to ask your questions here.