In this article, let us explore How Fireflies joins your meetings. We will also explore other questions you may have about Fireflies joining your meetings.
How Do Fireflies Join your Meetings?

Fireflies also joins based on the invite from your Google or Outlook Calendar. It detects the start time of the event and uses the web conference URL to join the call.




There are different ways to invite Fireflies to your meetings. Select the option that is best for your situation.


When it is time, Fireflies will ask permission to join the meeting and the Meeting Host will receive a prompt. The Meeting Host may click

Admit

to allow recording or

Deny Entry

to proceed without it. Fireflies joins meetings as a participant. If permitted to join, its name would appear as

Fireflies-ai Notetaker.




To completely configure Fireflies to join only the meetings you want it to join, refer to the below article.
Related article: How to configure Fireflies auto-join settings
FAQs Related to Fireflies Joining Your Meetings
Q. Can I Schedule my meetings from Zoho Calendar?
No. Only Google and Outlook calendars are only supported today. So Fireflies.ai will not be able to join meetings from other calendars like ZOHO Calendar
Q. Can Fireflies join the meeting after 10 mins? If yes, how to do it?
Yes. Let's say you already are in a meeting that's in progress. You didn't invite Fireflies to the meeting, and you have the auto-join set to Join calendar events only when I invite fred@fireflies.ai.
What you can do is you can go to the dashboard and click Add to Live Meeting, and then you can put in the meeting URL and then click Add now, and then Fireflies will join that meeting.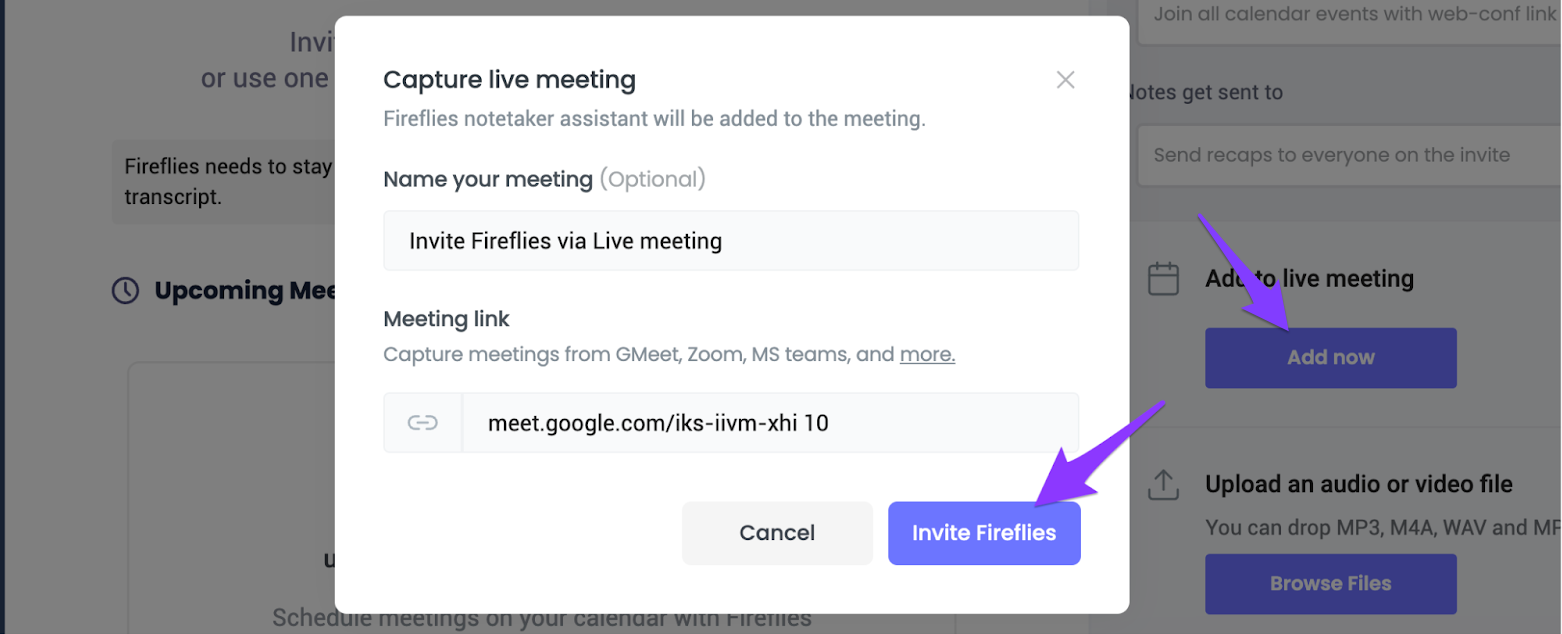 Related article: How to invite to a Live meeting from your dashboard
Q. How to Remove Fireflies from your meetings?
Just like any participant, you can kick out

Fireflies.ai Notetaker

at any time. It will stop recording from that point, but process the transcription for the duration it was in the meeting.




This way, you can get a portion of your meeting recorded and transcribed, and once you kick out

Fireflies.ai Notetaker

, continue talking to the rest of the participants in private.
Q. What if the meeting gets extended? Would FF stay in the meeting?
Yes, by default the Fireflies.ai notetaker bot stays on the call for up to 2 hours.
If your meeting goes beyond the 2-hour maximum time limit, you can use the add to live functionality in the fireflies dashboard to add the notetaker bot to the call again. You will need to enter the link to the meeting.
For scheduled calls, Fireflies will typically join 2-3 mins before start time.
Related article: How to invite to a Live meeting from your dashboard
Q. What if the meeting didn't start on time? How long would Fireflies wait?
If the meeting doesn't start on time or if Fireflies was kept in a waiting room, it will wait up to 20-30 mins and exit beyond that time.
Q. If a participant who received an email about the meeting being recorded opted out of it, can I still go ahead and record the meeting?
Fireflies bot will not join if someone opted out of the meeting you invited.
If you still would like to record that call, you can add the bot real time using Add to live meeting option in the FF dashboard or send a Fresh invite.
This is a business call that you have to make as a user. However we don't advise to force record if a participant opts out of recording the meetings because you are going to be liable for that.
Q. How do I prevent Fireflies from joining my meetings?
The Fireflies bot uses the join settings to determine which of your meetings to join.
You can adjust the join settings found on the homepage of the Fireflies dashboard to control this.
Setting this to join only specific meetings you invite, will prevent the bot from joining all meetings on your calendar.
Q. Can I hide the Fireflies bot on my video conferencing meetings?
No. It is not possible to hide the Fireflies bot on your video conferencing meetings.
You can alternatively use the chrome extension to record and transcribe your meetings. Using the chrome extension does not involve the bot joining your calls.
Q. Does Fireflies record video along with the audio of a meeting?
By default, the Fireflies bot records the audio of all video conferencing meetings it joins.
To record a video you will have to go toggle it from within the fireflies settings page in the dashboard.
Video recording is a feature that is only available to users that are on the business tier.
Related article: How to enable video recording in Fireflies?
Q. How do I notify people in advance that the Fireflies Notetaker bot will join the meeting to record and take notes?
It is the responsibility of the user to inform meeting participants that the call will be recorded by Fireflies.
It's important to note that different states and countries have different laws regarding call recording, so it's highly recommended to check and comply with these laws.
To make this process easier, Fireflies has a Meeting Compliance Feature that can be enabled on the Settings page. This feature will automatically notify all participants of the meeting that it is being recorded by Fireflies.
Related article: How to disclose that you'll be recording meetings
Q. Will Fireflies record a meeting even if I fail to attend the meeting?
Yes, all you have to do is ensure that Fred is invited to the meeting. This can be done by configuring your join settings to ensure that Fred can join all meetings on your calendar.
You also need to ensure that Fred is allowed to join the meeting when it requests to join. This will ensure that Fred captures your meeting even if you are unable to join.
Q. Can one Fireflies account be used for multiple calendar accounts or multiple email addresses?
No, one Fireflies account can only be connected to and used with one calendar account (Google Calendar or Outlook calendar).
It is not allowed to have multiple accounts associated with one license and it's against our terms of service.
If Fireflies detects that an account has invited multiple users on a single calendar account, the Fireflies notetaker bot will not join the meeting and the account will be subject to being blocked.
Q. Can Fireflies differentiate between speakers for a call recorded offline?
Fireflies is only able to detect and label the speakers in a meeting correctly for video conferencing meetings where users join on their own accounts.
If you were to upload an audio to Fireflies, we will at best differentiate the different speakers as speakers 1,2,3 etc
Q. How can I change the name of the Fireflies Notetaker?
You can change the name of the bot that joins your video conferencing meetings. This is available as a paid add-on you can avail for $5/ month. You can make a request here.
Related article: How to customize the name of the Fireflies Notetaker
If you still have any questions on using Fireflies, feel free to ask your questions here.