In this article, let us see how to set Fireflies to join only the meetings you want it to join.
Why Fireflies joins my meetings uninvited?
Here are a few reasons why this happens:
1. Your Autojoin Settings
Most likely your Autojoin Settings is configured to Join all calendar events that have a meeting or Join all calendar events that I own.

If you've configured join all calendar events - Fireflies will automatically join all meetings where you are a host or participant
If you've configured join calendar events that I own - Fireflies joins all meetings where you're the host
Solution: You need to change the autojoin settings to Join calendar events only when I invite fred@fireflies.ai . Now, Fireflies will only join when you invite it to your meetings.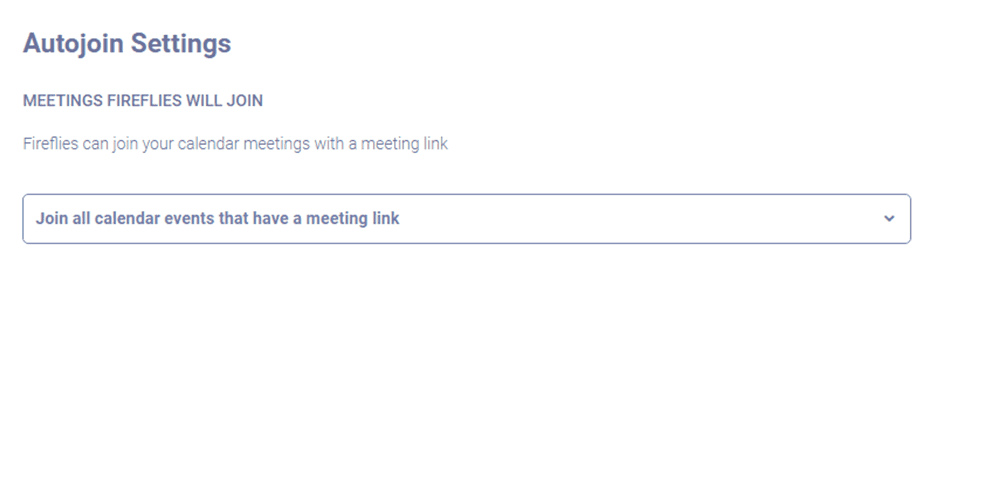 2. Other Participants Are Using Fireflies
If you haven't signed up for an account but Fireflies.ai Notetaker attended your meeting, it means one (or more) of the participants are using Fireflies.
This is also the case if you receive meeting recaps unexpectedly.
Solution: You can kick Fireflies out of the meeting at any time just like any participant.
Related article: How to kick Fireflies out of the meeting?
How to set Fireflies to only join meetings upon invite

You can also do this by going to the Settings tab and selecting this option from the meeting autojoin settings

The next time you create an event on Google Calendar or Outlook Calendar, you would need to invite fred@fireflies.ai as a guest to that meeting.
I hope this article helped you to set Fireflies to join only the meetings you want. In case, you still face issues about Fireflies joining your meeting without permission, drop us an email at support@fireflies.ai