Sign up or sign in to Fireflies by logging in to your Google Calendar or Outlook Calendar. Fireflies connects to your calendars so it knows which meetings to join.
Open

Fireflies

Select either Google Calendar or Outlook Calendar. (In our example, we'll log in through Google Calendar.)
Log in with your credentials.
Click Allow to verify.


The next page you're redirected to allows you to set your preferences. Go over the different options as these will establish what meetings Fireflies joins and who receives the meeting recaps.
Configure How Fireflies Joins Your Meetings
MEETINGS FIREFLIES JOINS
Select from the options to establish how Fireflies joins in on meetings.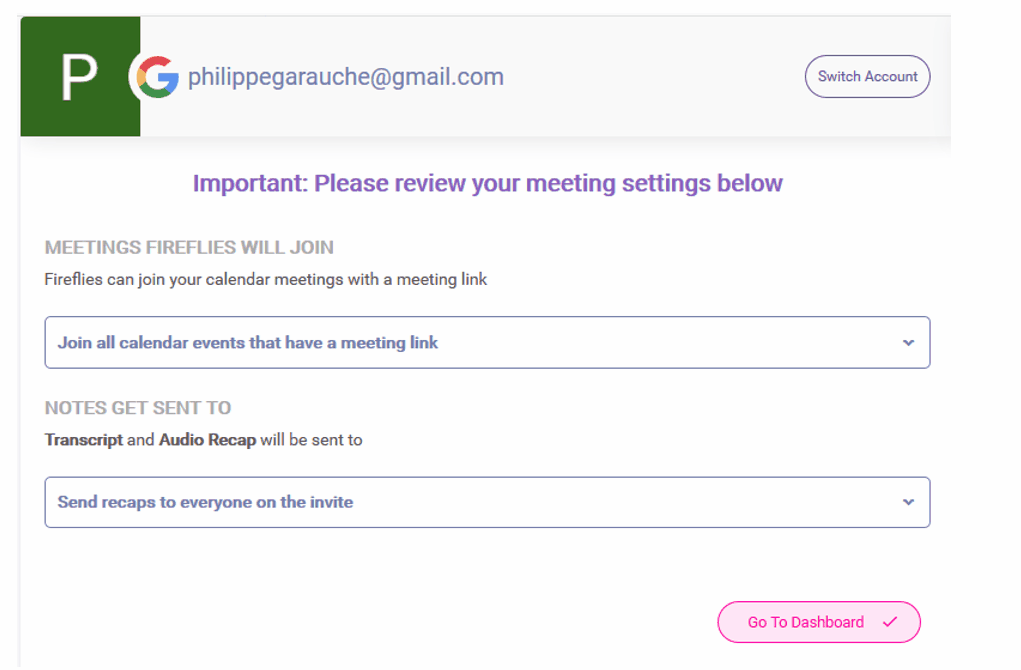 Fireflies joins meetings just like any participant. Its default name is
Fireflies.ai Notetaker
. You can kick Fireflies out the same way you kick out anyone from a meeting.
NOTES GET SENT TO
Select from the options to establish who receives the transcripts and audio recaps.
Click Go To Dashboard.



Done! You have configured the most basic settings on your Fireflies account. Please go to Settings to optimize how Fireflies works for you.