Topic trackers is a Fireflies feature available to paid users. This feature allows you to configure topics and associated keywords for each topic. Fred, our notetaking bot keeps tabs on this and gives you insights based on these configured topics.
This article will walk you through how to configure topic trackers to use across your integrations
Setting up Topic trackers
By default, Fireflies has a "Voice commands" topic tracker set up. This topic tracker contains keywords that could allude to a potential action item. You can edit these keywords. Click here to view your topics.




Similar to the default "Voice commands" topic tracker you can create your own. This could be based on the Topics and associated keywords that you want to track in your or your team's conversations
Related article: How to use voice commands to create tasks?
Using topic trackers in your integrations
Topic trackers are used in the project management integrations and the Slack integration. Based on topics spoken you can trigger actions in these integrations. Let's explore how to do this for Asana
After connecting Asana and authorizing the integration, you will have to select the relevant topics from the Asana settings page
You can add one or more topics that you want Fireflies to track in your conversations

After settings this up, make sure you hit on "Save Settings".
Once this is set up, Fireflies will create tasks in your configured list underneath the relevant project. The tasks created will reference the snippet of the conversation where the keyword was mentioned
An example would be: If we detect the keyword "remind me" which is associated with Voice commands, Fred will create a task in Asana with a link to the transcript and an excerpt from when the keyword was mentioned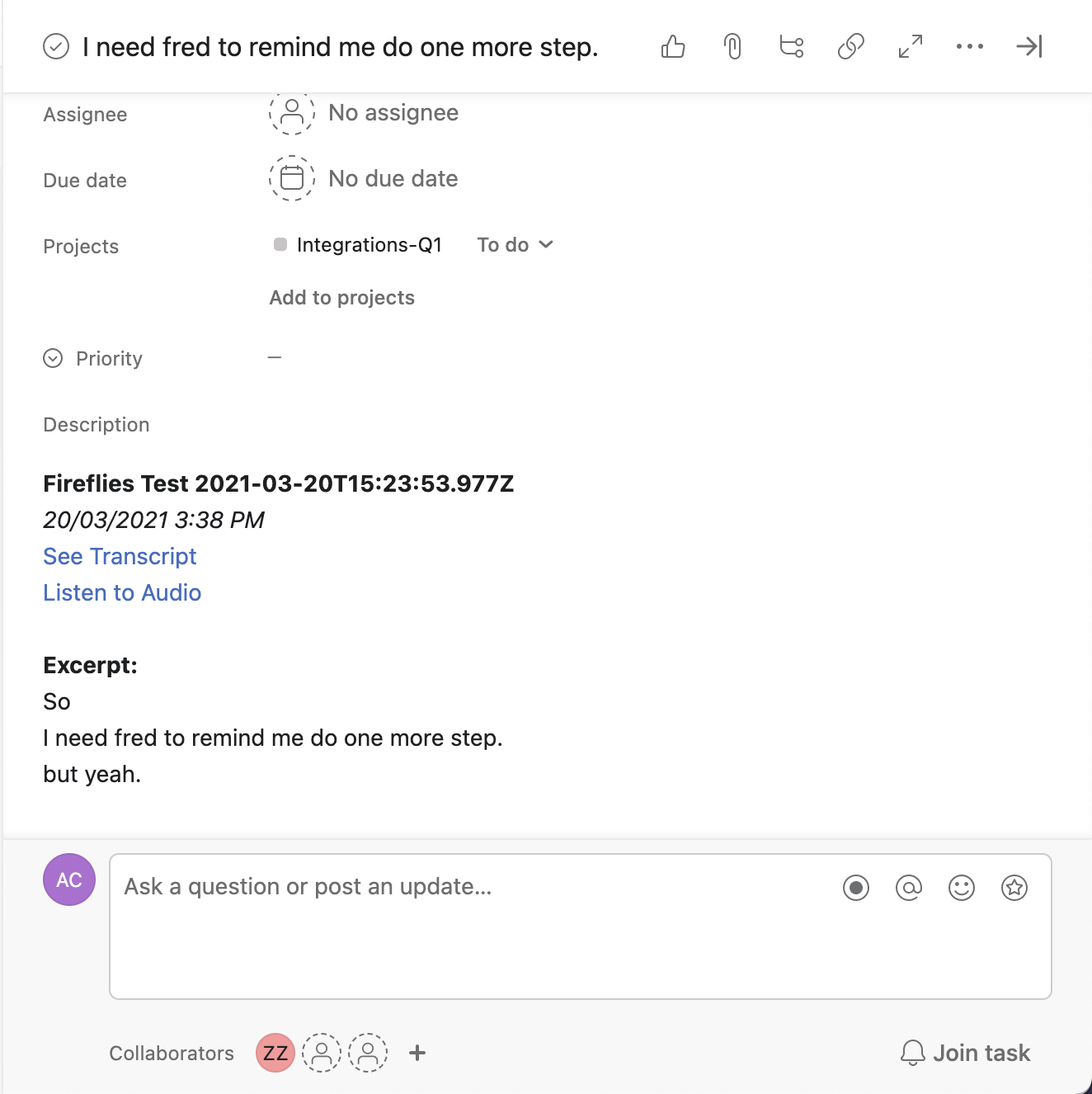 Other Project management integrations can be configured in a similar manner to create tasks based on keywords mentioned as part of the configured topics
Related article: How to integrate Asana with Fireflies?
You can do a similar setup for the Slack integration which will send a message everytime keyword associated with the selected topics mentioned on your meetings

Related article: How to integrate Slack with Fireflies?
Hope this article, helped you to use topic trackers to trigger integrations.
If you still have any questions on using Fireflies, feel free to ask your questions here.